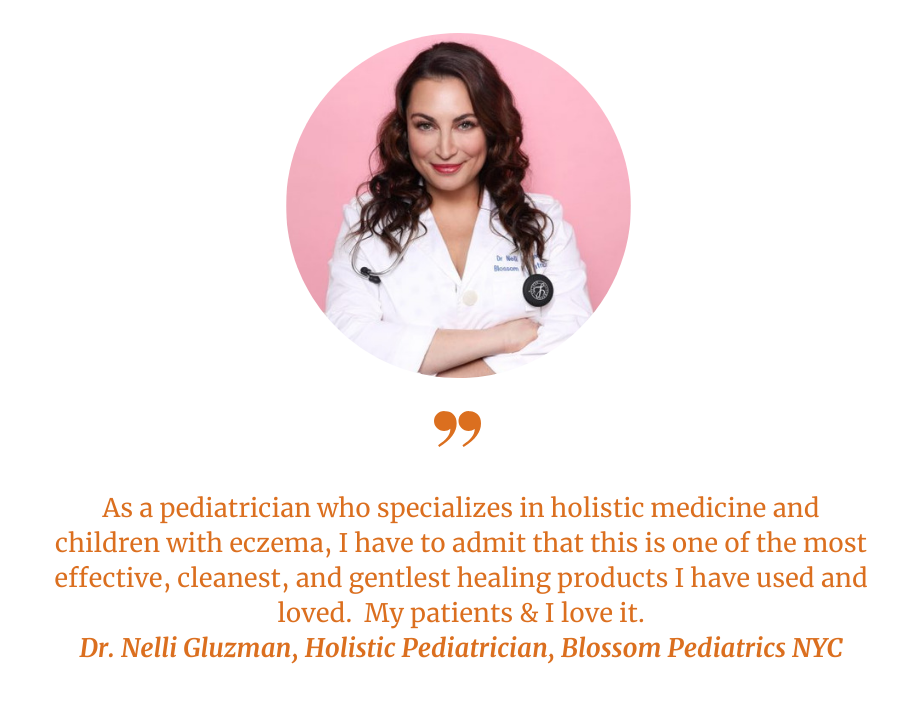 Organic Manuka Skin Soothing Cream - Original
Meet our dreamy, Organic Manuka Honey Skin Soothing Cream. The Original. Dermatologist Tested and Approved.
This is our little star - it's how YoRo Naturals started and it's since grown into one very popular little pot of goodness. Its six natural ingredients are gentle enough for babies and effective on adults. No burning or stinging like most creams containing additives like benzyl alcohol . Kids love the soft, sweet honey smell! Our Organic Skin Soothing Manuka Honey Cream is an oil-based balm with a touch of water added to create a uniquely soft, buttery texture that your skin will adore. Use this honey-kissed, sensitive skin moisturizer everywhere! From head to toe, from delicate parts like eyes and lips down to knees and feet, and every space in between.
Why You Should Buy Manuka Honey Cream:
Creamy balm with no sticky residue
Only 6 all-natural ingredients
Contains 16+ New Zealand Active Manuka honey (monofloral) with 1000x more methylglyoxal than regular honey.
Manuka oil is more potent than tea tree oil when battling bacteria and fungus.
Absolutely zero added preservatives or fragrances.
Nut-free, Gluten-free, GMO-free.
NOT gamma radiation treated.
Works wonders for:

Dry and sensitive skin
Eczema
Perioral Dermatitis
Contact Dermatitis
Psoriasis
Rosacea
Keratosis Pilaris
Groin irritation
Beards
Tattoos
Chafing
Chapped skin
Diaper rash
Chemotherapy burns
Sunburn
Razor burn & itchiness after shaving
Cuts and scrapes
You will love our Manuka honey skin care products for soothing your skin sensitive skin. We find a little goes a very long way. Best when used on slightly damp skin for the ultimate in moisture therapy. 

Organic Olive Oil, Organic Beeswax, Filtered Water, Grape Seed Oil, Active 16+ New Zealand Manuka Honey, and Manuka Oil Extract.
Soothing and healthy for my skin.
I use this to ward off dry itching skin. I also used this manuka cream for my surgery wounds to lesson irritation and scarring. I am very sensitive to so many ingredients. This has been so helpful for the comfort of my skin. I am grateful for this product.
Thanks for your 5-star review, Lynn! We're thrilled that our Organic Manuka Skin Soothing Cream includes ingredients that are helpful for reducing irritation and scarring.
Great Manuka Cream!!
I've had excema on my foot for over 2 YEARS!!!
I've tried SO many prescription creams, steroid shots, and ITC items. NOTHING relieved the pain and irritation!! I was at the end of my rope!!
So I searched to kingdom come for relief. I discovered Manuka honey works, and started putting it on my foot. That did work, but it was a sticky mess. Then I found the ad for YoRo Manuka Cream and decided why not??
Weeelll!! This stuff is a miracle!!! It soothes my excema instantly, without the sticky!!
Jennifer.. kudos to you and your miraculous product!!
I can't thank you enough!!!
I will be continually ordering more!!
Thank you!!!
We're so glad to hear your Organic Manuka Skin Soothing Cream is providing the soothing, non-sticky relief you deserve, Greta. Thanks for your 5-star review!
The best cream I have ever had for my eczema
We're delighted that your Organic Manuka Skin Soothing Cream is the best cream for your eczema, Joy! Thanks for your 5-star review.
Organic Manuka Skin Soothing Cream - Original
Thanks for your 5-star review, Marija! We're thrilled to hear that you're loving your Organic Manuka Skin Soothing Cream as much as we do.
I call Yo Ro my magic cream.
It is the only product with clean, honest ingredients I can put on the eczema under my arms that works. The burning goes away, soothing and moisturizing the rash, and calming the itch. I have recommended this to my loved ones, and friends; confident they too, will experience healing of their skin. I do not have to look up and research the ingredients to make sure they are not cancer causing agents, because the ingredients are pure and simple…. Thank you 🙏🏻
Thanks for your 5-star review, Monica! We are thrilled to hear that your Organic Manuka Soothing Cream has brought you relief. Thank you for sharing its skin-healing benefits with your loved ones.