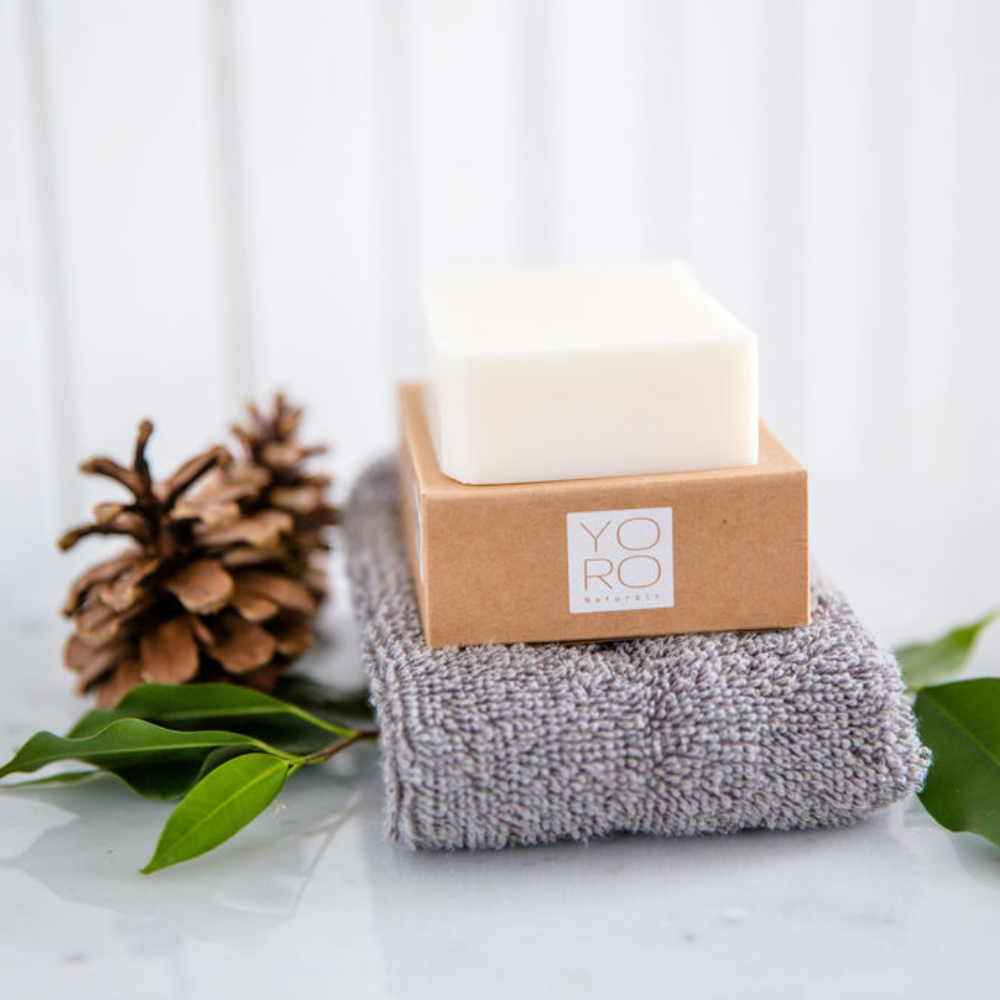 Coconut and Sunflower Oil Soap Bar
Best Natural Soap for Psoriasis, Eczema, Sensitive Skin and More
A natural soap bar that is both gentle and nourishing. By combining coconut oil, shea butter, and sunflower oil in soap, we've created a fatty cleanser and moisturizer with a lather that will leave your skin feeling soothed, soft and supple.
Use it as a natural hand soap to help maintain moisture throughout the day or use it as a full-body soap for cleaning skin face to toe.  It's the best natural soap for eczema, psoriasis, sensitive skin, and more.
Offers a naturally light, clean smell without added fragrance or perfume.
Gentle enough to use on kids and babies.

Why You Should Try Our Coconut and Sunflower Oil Soap Bar:
Fatty moisture, no stripping

Dermatologist approved

Vegan & cruelty-free

Made for sensitive skin

Gentle enough for babies

Use head to toe and on delicate facial areas

Handmade in the USA
4.25oz bar
Works wonders for:
Dry and sensitive skin
Eczema
Psoriasis
Chapped skin
References
[1] Skin Barrier Benefits of Sunflower Oil by Peter Lio, MD, Dermatology Times
[2] Get the Facts: Coconut Oil by Emily Delzell, National Eczema Association
[3] Anti-Inflammatory and Skin Barrier Repair Effects of Topical Application of Some Plant Oils, Tzu-Kai Lin, Int J Mol Sci.
Sodium Sunflowerate (cold pressed, high oleic sunflower oil*), Sodium Cocoate (cold pressed coconut oil*), Sodium Shea Butterate (shea butter*). *Saponified oils
Nearly scentless, and leaves a clean feeling
It didn't start drying out my skin like regular soap does. It didn't irritate my eczema. I'm happy with this soap.,
Thanks for your 5-star review, Lucinda! We're glad to hear your Coconut and Sunflower Oil Soap Bar cleans without any irritation.
Gentle, mild, soothing soap
I very much like this mild and gentle soap. It will work well for me as a hand soap and bath/shower soap. I think this soap would be helpful for even the driest and very sensitive skin.
Simple gentle soap
The YoRo bar soap seems gentle on my skin and I like that the packaging is recyclable or compostable!
As well, I prefer the YoRo coconut soap to other bottled soaps where the pump mechanism has to go to the landfill.
FINALLY, something works!
We were at our wits end trying to find something to help our daughter with her eczema and her insanely sensitive skin. We spent so much money on all the creams. I found Yoro on Pinterest and decided to give it a try based on their money back guarantee. Truthfully I didn't have high hopes because we had struck out with everything we had previously tried. I have never been more thrilled to be wrong in my life! This cream has been such a game changer for my daughter. Thank you yoro!
Game changer!
This luxurious soap has been a big game changer for my skin! I went from such itchy skin that I could hardly stand it, with small patches of eczema, to no itching, no eczema, and silky soft skin, that looks and feels wonderful.
Thank you!